Fat Boys Tire & Auto Truck Center
Project Category: Retail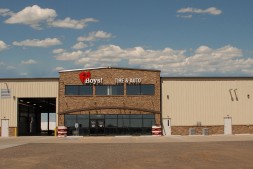 General Contractor:Heath Construction
Architect:Farnsworth Group
Engineer:Farnsworth Group
Project Size:21,440 sq. ft.
Location:Cheyenne, Wyoming
Project Description:
Heath Steel supplied a retail truck tire building in Cheyenne, WY for Fat Boys Tire & Auto, a regional tire and automotive maintenance business. The building features a 17,840 sq ft main level and 3,000 sq ft mezzanine, dormer, wall bump-outs, wainscot and overhead doors.