Galeton Fire Station
Project Category: Specialty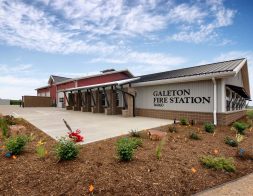 General Contractor:Heath Construction, LLC.
Architect:Belford Watkins Group
Engineer:CSE Consultants
Project Size:12,300 Sq Ft
Location:Galeton, CO
Project Description:
Over the course of 30-plus years as a Chief builder, Heath Steel of Fort Collins, CO has built metal buildings of numerous designs and end uses. Despite having built hundreds of buildings over that time each project brings unique design and constructability challenges, including the recently completed Galeton Fire Station.
This rural fire station was built to accommodate fire department apparatus including vehicles and gear storage plus crew quarters, training and community rooms, offices, utility spaces and a training tower complete with rappelling platform.
The 13,260 sq ft building with 1,250 sq ft    mezzanine was designed to fit into its rural location with a barn-look roof and various panel profiles and colors including a charcoal color standing seam roof, Cherokee and ash colored walls and galvalume training tower. The building also features porch canopies, sunscreens, gables, cupolas and CMU wainscot. Construction challenges included last minute owner and architects changes, winter conditions, erection problems with the dark roof and schedule delays from other trades. The challenges were overcome to deliver a unique and functional Chief building!
Galeton Fire Station won 2016 Chief Buildings Project of the Year in the Government Category and the 2017 MBCEA Award of Merit in the Specialty Category.