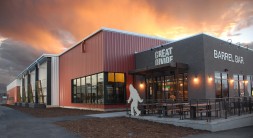 General Contractor:Saunders Construction, Inc.
Architect:Coburn Architecture
Engineer:KL & A, Inc.
Project Size:55,000 sq. ft.
Location:Denver, Colorado
Project Description:
The rapidly expanding Great Divide Brewery is one of Denver's first craft breweries, and is currently celebrating its 21st anniversary.This building is the first phase of brewery's expansion from their original Ball Park location at 22nd and Arapahoe. It includes a state-of-the-art canning line, packaging facility, warehouse space, barrel aging room, negatively pressured sour room and taproom.
The building was built on an accelerated construction schedule starting in late 2014 and completed in mid-2015. Heath Steel supplied and erected the 55,000 sq. ft. metal building system from Chief Buildings that included specialty wall panels, standing seam roof with snow retention system, insulation package and two mezzanines for walkways and equipment. Design assistance and value engineering services were also provided as part of the contract. Project challenges included delayed start, construction schedule changes and wintertime construction conditions that were overcome to successfully complete this project.