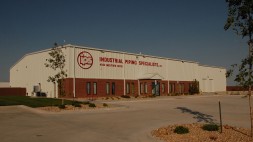 General Contractor:Heath Construction
Architect:Hauser Architects
Engineer:Owen Consulting Group
Project Size:26,700 sq. ft.
Location:Loveland, Colorado
Project Description:
Heath Steel supplied and erected two buildings for Industrial Piping Specialists, a multi-state distributor of pipe, fittings, flanges and valves to the energy and general construction industries. The 18,600 sq. ft. warehouse/office building includes a 3,600 sq. ft. mezzanine, masonry wainscot at the offices, 24' eave height and multiple overhead doors. The 4,500 sq. ft. saw-cut building has 14' eaves, openings for interior/exterior pipe racks, overhead doors and is designed for future expansion.