Main Street Market
Project Category: Retail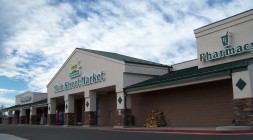 General Contractor:Sinnet Builders
Architect:N/A
Engineer:N/A
Project Size:30,000 sq. ft.
Location:Wellington, Colorado
Project Description:
Heath Steel furnished this 30,000 SF Chief Metal Building System for a new grocery store building directly to Sinnett Builders, the general contractor for the project.
Building features include an EPDM roof, steel stud walls, and an exterior facade of brick, stone and EFIS.