4-H Youth & Community Building
Project Category: Recreation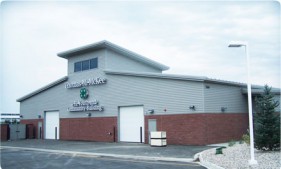 General Contractor:Hensel-Phelps Construction
Architect:Kenney and Associates
Engineer:
Project Size:25,759 sq. ft.
Location:
Project Description:
Heath furnished and erected this 25,759 square foot pre-engineered steel building at the Larimer County Fairgrounds in Loveland, Colorado. Notable features include horizontal metal panel walls, mechanically seamed roof system, masonry wainscot, operable partition, canopies, monitor structure and large roof-top units. The building houses an exhibition hall, breakout rooms, kitchen, offices and classrooms.