Fort Collins Country Club Indoor Tennis Center
Project Category: Recreation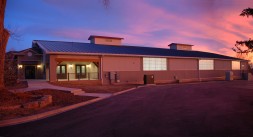 General Contractor:Heath Construction
Architect:March & Associates, Inc. A/P/I
Engineer:The Leffler Group
Project Size:27,500 sq. ft.
Location:Fort Collins, Colorado
Project Description:
Chief building with clear span design over three full size tennis courts. Designed to complement existing Country Club facilities, the building features a Chief Buildings standing seam roof with cupolas, Kingspan insulated wall panels in a two color Granitstone stucco finish, eave extensions and canopies. The interior features a viewing mezzanine and bright white simple saver roof insulation. This building won the Chief Buildings 2014 Sports-Entertainment Honorable Mention Award for Building of the Year.