Thunder Mountain Harley-Davidson Motorcycle Dealership
Project Category: Dealerships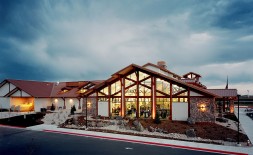 General Contractor:Heath Construction
Architect:Thorp & Associates, PC
Engineer:N/A
Project Size:70,000 sq. ft.
Location:Loveland, Colorado
Project Description:
Heath Steel supplied and erected this award-winning $5.5 million new motorcycle dealership that is located on I-25 and Crossroads Boulevard in Loveland. The 70,000 square foot Chief Building features log and stone accents to create a Colorado mountain style.
The facility, that won the 2004 Chief Building of the Year award, includes retail showrooms, sales and meeting rooms, storage space, executive offices and a state of the art service and machine shop. The site includes an outdoor pavilion for concerts and shows.